I know what you are saying. Nobody listens to the radio anymore with satellite, Spotify, and a host of other music sources where you can hear your favorite tunes at your fingertips.
However if you like current Dance, current Hip-Hop, classic Hip-Hop, or classic House, you are in luck as one of the biggest moves in Chicago radio is already making noise. This ultimately will be beneficial to you the listener.
A little history
Back in the 1980s the big radio war was brewing between WBMX and WGCI for the crown of House music and R&B leader. WBMX was the first station to air a mixshow with the infamous Hot Mix 5. WGCI followed and eventually stole some DJs away from BMX. While BMX won early on, GCI won the war and later forced BMX to change formats to    V 103.
In the 1990s, the next big radio war was between the "Killer Bee B 96" and "Hell" ummm I mean "Z 95." Those of you locals will know what I mean, just look up Hell 94.7 Chicago on Google or You Tube.
WLS' (WYTZ at the time) crazy and infamous moves did not end up working and changed formats. Meanwhile B 96 still airs a Top 40 format today.
Those of you who grew up in Chicago know what I am talking about. The Hot Mix 5 and later B 96 Mixmasters were the kind of weekend mix show where you had so much fun listening to it as you did recording it off the radio on tape. Not only were these DJs local but nationally and internationally well known. Still today.
I recorded the mixes too myself. I still have a ton of tapes from the B 96 Street Mix that I need to digitize. Some of it is featured on a Classics B6 page which I definitely recommend checking out.
https://www.youtube.com/user/CLASSICB96 (Where my B 96 mixes I already submitted are- BrianThaB).
Fast Forwarding to November of 2017
As soon as Entercom bought CBS Radio, they made a move that sent shock waves through Chicago radio. 104.3 K-Hits (an 80s gold with some 70s recurrent station) was changed for the Classic Hip-Hop Format called 104.3 Jams.
At first it is a great concept, however the main complaint on their Facebook page is that it is already plays songs by Ja Rule and Jay-Z way too much. (Side Note: Since when did Ja Rule begin the king of Classic Hip-Hop? You also don't even play his first hit "Holla Holla").
I listened a week ago and it is about 1-2 Ja Rule and Jay-Z songs per hour like that is all Chicago ever listened to back in the day.
I hope as they get their act together they play deeper music from the 80s to the 2000s and tailor it to hits that was popular in Chicago. They have B 96 as a sister station to lean on. If they don't, there are plenty of Classic Hip-Hop Stations across cities like Atlanta, San Antonio, and Indianapolis that are already gone within 2 years of the format…
In the meantime, the station needed to make a statement and statement they made, as the legendary Julian Jumpin' Perez along with DJ Nonstop (formerly from Kiss FM, B96, and recently GCI), DJ Flipside (B96) and DJ Metro (B96) have formed the BMX Four. They will be mixing not only NYE, but every Friday and Saturday night starting January 5th.
This is great and smart news. They hired a DJ that is a legend on the old BMX and B 96. Plus he knows this market working nights and creating his Street Flava show on Sundays that was popular on B 96 in the 90s.
Flipside & Metro will still mix for B 96 as I am assuming their Street Mix will stay unchanged. This does not solve 104.3's overplay of a very small Classic Hip-Hop playlist, but it this will get people talking until they hire a full DJ staff. I am guessing will happen gradually during the winter if it has not happened already.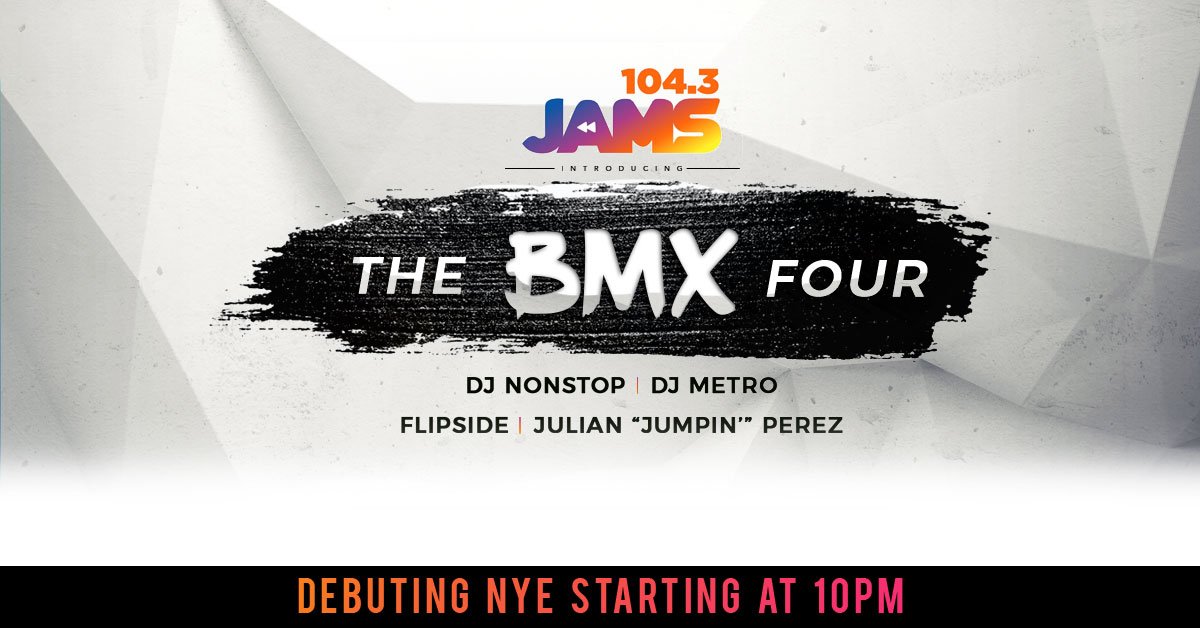 That is not all.
Earlier in the late spring/early summer, 106.3 that is heard in the South Side of Chicago promoted Mike Love to mornings. ( Side note: Mike Love is formerly Fresh G of the old Hot 102 & V 100.7 in Milwaukee. Additionally he was 1/2 of the GCI Mike Love & Diz evening show back in the 90s). He promptly premiered the only station that airs mixes in the mornings. The show is called "Mike Love and the Morning Mixtape."
Now airing mixes in the morning is not a new concept as 2 Hip-Hop stations in LA air mixes for their morning shows (Real 92 Big Boy's Neighborhood and Power 106 Jay Cruz Show). This show is a similar concept locally produced for Chicago.
The mixes are everything from 70s, 80s, & 90s R&B, to House music, and yes, Classic    Hip-Hop. Like huge hits and great favorites not necessarily mainstream in the 80s and 90s!! In 20 minutes, this show plays more variety than 104.3's entire playlist. It is secretly the city's best morning show if you rather listen to music than talk to get you going in the mornings. If you don't get the signal on terrestrial radio, you can listen online at http://www.1063chicago.com or phone apps like Tune In or myTunerRadio.
What is this 102.3 thing all about?
Also some of you may not know this but before 104.3 ever thought about changing formats, we already have a suburban signal that beat them to a classic hits format.
WCKG 102.3 the Beat (102.3 FM and 1530 AM) has created a partnership with WBMX.com (not affiliated with 104.3 Jams) to re-create not only the Friday Night Jams mixshow (10pm-2am) and Saturday Night Live Ain't No Jive Chicago Dance Party (6pm-12am), but also a classic hits dance friendly format on Saturdays and Sundays from noon-6 pm. They also have a Great Golden Grooves show every Sunday from 6pm-12am.
The mix shows all have a rotation of guest DJs however the 2 most popular DJs featured every week are Frankie "Hollywood" Rodriguez and his "This is My House" mixshow (heard Friday & Saturday) and Mickey Mixin' Oliver (heard Saturday night). Both DJs are former members of the Hot Mix 5 and Frankie also mixed & was on-air for B 96, and the short lived i101.
The biggest thing for 2018 is that the suburban station WCKG will get a tower in downtown Chicago where you can hear the station on the radio at 102.3 throughout the entire metro area and not just the suburbs near Elmhurst. Until then you can hear them at http://www.wckg.com , http://www.wbmx.com (where all their mixes are archived to a soon to be new designed site), and on your phone on the I Heart Radio App or WBMX app.
Facebook Live Mixshow?? BOOOOOOOOOOMMMMMMMM!!!!
The last thing is not on the radio, but if you like Freestyle music, Tim Spinnin Schommer (formerly of B 96 and the short lived i101) does a Facebook Live Mixshow airing Freestyle (new and old) along with house music occasionally. You can tune in every Sunday at 8 pm. Like his page at https://www.facebook.com/timspinnin/
Through all the new things happening in Chicago radio, it will be interesting to see if Entercom's B 96 or I Heart Radio's V 103, Kiss 103-5, and WGCI stay the course or make counter moves. WGCI already took the first noticeable hit from 104.3 Jams as their ratings dropped in 1 month from 3.3 to 2.7 while WBMX rose from 2.4 to 4.4.
Source: https://ratings.radio-online.com/cgi-bin/rol.exe/arb005
Whatever they do, Chicago radio has just gotten much more interesting. The more choices out there, the better the competition is, and we as listeners all win.
2018 is already shaping up to be a good year!!